We are fully operational during COVID-19. Practicing safe distancing and ready for all your renovation needs.
X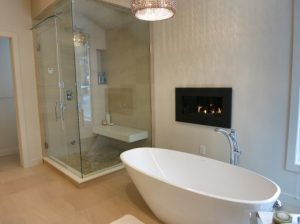 Chances are you'll renovate your bathroom at least once or twice in your lifetime. Whether you're looking to upgrade the fixtures to provide a more modern aesthetic, or you want to add that soaker tub you've always dreamed of, bathroom renovations are always a good investment. After all, a properly renovated bathroom can do wonders for increasing the value of your home! Refine Renovations works with our clients to ensure they get the best value for their investment with stylish and functional bathroom renovations.
Designed for your life
Our team of expert team of in-house trade specialists works together to ensure your bathroom dreams come to life. Every single one of our projects is supervised by a civil engineer, so you can have peace of mind knowing that your renovation will be done right.
Our custom cabinet shop provides customers the opportunity to select the cabinets, millwork, and mouldings that best suit their personal tastes. This ensures that you have a bathroom that is not only beautiful, but functional as well. We have excellent relationships with Edmonton's best hardware suppliers, providing you with endless options for modern bath fixtures.
Book a Consultation
There's no time like the present to revamp your bathroom! Contact Refine Renovations today and speak to our team about your bathroom renovation needs!